It is five days left until foss-north 2017, so it is high time to get your ticket! Please notice that tickets can be bought all the way until the night of the 25th (Tuesday), but catering is only included is you get your ticket on the 24th (Monday), so help a poor organizer and get your tickets as soon as possible!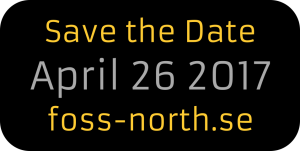 And just to reiterate what's on the menu. This is a full day conference with two tracks and many interesting speakers from many projects, including Debian, Wikimedia, KDE, systemd, PulseAudio, Nextcloud, PostgreSQL, OpenRISC, flatpak, AsteroidOS and more.
Last year, over 30% of the tickets was sold in the last 48h. This year, we cannot provide catering for the ones buying tickets the last 24h, so hopefully the peak will come earlier. For now, we have 93 persons on the visiting list, but there are chairs for 100 more!