As the first week of work and school comes to an end, I realized that this 100 days to offload is harder than predicted. I partly blame that I got the traditional going-back-to-work cold, but I guess I also have less time to spend on fun stuff like writing.
This week has been about cleaning up.
I've started to clean-up my backlog of foss-north video recordings. I've got some 12GB of videos rendered, and I'm not even halfway. For next year we really need to do something about the audio recording situation, but it is what it is and it will have to do.
I've also contacted a lawyer to help me clean up some personal stuff that I need to complete, given my new family situation. It is not hard, I just find myself procrastinating instead of doing the paperwork. By paying someone (a lot) I guess I will be more focused at completing the task.
Finally, I'm cleaning out stuff from my office and garage. The office simply needed cleaning. If I intend to keep a collection of keyboards, I probably need to make sure they fit somewhere. But it is getting there. I need to reorder the stuff in my shelves to make for a nicer video call background though :-)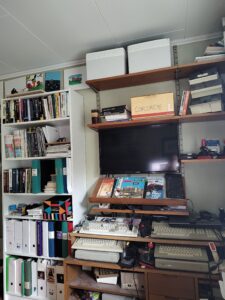 I'm cleaning the garage to make room for the electrician who will come and install a charging box for my new, all electric, car. More about this in another post – but it will be nice to be able to do three phase charging at home instead of just 2kW.
All in all – a productive week!