As some of you might know I've been involved in the foss-gbg group for a long while (more than 3 years now). Last year I helped starting the foss-north conference, which is really about taking what foss-gbg is and turning it into something bigger. We had a great turn-up – over 100 guests and ten great speakers.

This week, I finally got time to start pushing forward with this year's edition of foss-north. It will be held on April 26 in Gothenburg and it is a great opportunity to visit Sweden and Gothenburg and mingle with the FOSS community. We've already confirmed Lydia Pintscher and Lennart Poettering as speakers. If you want to speak the call for paper has just opened and will run until March 12. Tickets sales will open shortly too, as well as the call for sponsors.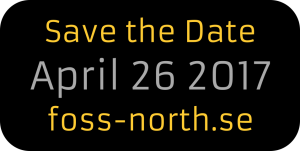 By a random chance I got involved in the organization of yet another group this week. The C++ meetup community in Gothenburg has been inactive for almost a year, so a group of people decided to pick up the ball and try to get something running. We've renamed the group to gbgcpp and the next (our first) meeting will be held January 26, and then we will take it from there. Hopefully this can turn into something fun!