As promised, here comes a post about living with my first fully electric car. In March I received my MG5.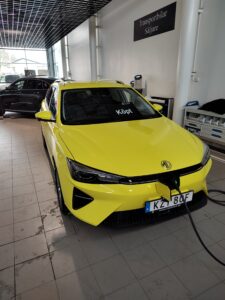 So, let's get the range question out of the way. My last car was a fairly lean diesel (a BMW E61 with the 2.0L diesel) and my personal record was 1350km on one tank of diesel, but I could do 1000km easily. The MG claims to do 380km. On a nice spring day on the smaller roads (so doing ~70-80kph) I can do 400km without too much effort. On a day with heavy rain trying to do 100kph, I'm happy if I can do 300km. It will be interesting to see how this car fares in winter conditions (cold + thick slush covering the road).
Given that the charging speed is a variable thing, it took a couple of weeks getting used to it, but now I do longer trips quite comfortably.
I consume ~16-17kWh/100km. If I want to do highway speeds (in Sweden that means 100 – 135kph) I need to calculate ~25kWh/100km. The battery pack carries 61kWh of charge. You do the math.
To refill the 61kWh, there are a range of options, but the three categories are:
single phase charging from a normal power outlet, ~2kW, so 10km/h
three phase charging from a public charging station (soon at home too), ~11kW, so 50km/h
DC charging from a public charging station, ~95kW, so 475km/h
The interesting part here is the variability of the prices. At home I can charge for ~1SEK/kWh. Public stations in my home town vary between 3-4SEK/kWh – but I've seen stations as low as 2SEK/kWh and as high as 8SEK/kWh when travelling. For DC charging, the price seems to hover around the 9-10SEK/kWh point. The exception to this is Skövde where all public charging stations costs 2.5SEK/kWh regardless of power output last time I checked.
Another thing to factor in is the ridiculous number of apps needed to charge. I need two for my, rather small, home town, and have 12 in total at the moment. It would had been nice if the outlet could negotiate the price and payment with the car, so that I just approved the price and could get on with my life.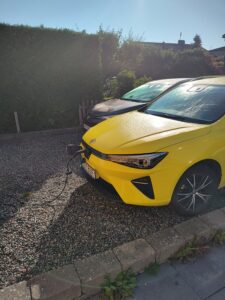 For my needs, I've been able to survive on the 2kW charger since March, but sometimes had to use a public 11kW charger to fill it up before longer trips. But for my summer house trips (200km, one way, only single phase charger there), as well as my semi-daily commute (~50km, one way, charging at home) it just works.
The longest trips I've done this far is ~600km, and it has worked out. Once I got stuck in a charging queue due to Easter and a game being played at the local arena. That made me ~2h late, but apart from that, it has just worked.
There are other factors to take in as well. The air conditioning system of the MG is the worst I've ever encountered. It fogs up if there is rain in a 100km radius from the car, and the fans always blow a lot of air, despite the temperature being ok in the car.
When it comes to infotainment I'm a damaged human being, but it will have to be a separate post. If anyone from MG/SAIC wants my input – reach out – I'm here to help :-)
Otherwise the car does what the box says. It delivers the range. It comfortably drives five people. It fits a bit of luggage.
For the next car I'll definitely go electric again. All I want is a 6 or 7 seater that does not cost an arm and a leg. Let's see what's on the market in a few years time.