The end of 2022 and beginning of 2023 has not been much to cheer about, but life goes on and it is time to do some fun stuff, and I've got some lined up that just might involve you.

First of all, foss-north is back as a physical event. The 2023 event will be the 8th (9th if you consider that we had two events back in 2020 in hope of COVID to be over after the summer) and it will be the 5th physical event. Last time around, in 2019, we peaked the number of speakers, community projects and visitors, so I hope that we can continue that trend and make it even bigger this year.
If you want to participate as a speaker the Call for Paper is still open for another week, so feel free to join in. We're also looking for projects for the community day as well as sponsors and visitors. Tickets will be made available during March.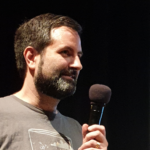 In addition to this, me and a couple of friends are getting back to podcasting. The topic is anything open source and we've setup a github project for you to contribute your ideas. Feel free to drop in your suggestions.