It has been a long time since the last update of QmlBook was announced – but the project is definitely live and kicking. Jürgen has put in a lot of great work into the contents and gotten the collaborative work over on github started. To simplify the publication, the contents has been moved to github hosting, but you can still use the old qmlbook.org (and qmlbook.com) addresses to get there.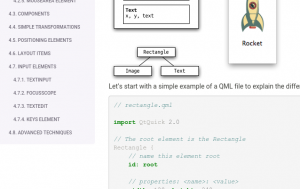 The reason for the standstill on the qmlbook.org/com sites, and much of the perceived lack of progress is due to my personal time situation. Small children and family life takes time, as does my work (which is awesome and includes Qt/QML – go Pelagicore). Unfortunately, I'm a bit of an optimist, so I want to, and truly believe that I will have time to work on side projects such as this book. But the 24h/day limit sucks, so sometimes I realize that I fail to do so.
However, this is not a post where I complain over my own situation – instead – I want to thank all the contributors who keep feeding us issue tickets via github! I would also like to thank our readers – it is great to hear from you! And finally, I'd like to thank Jürgen who has put down a lot of work and kept the project moving forward.
It is not my intention to leave this project, I'm just short on time at the moment due to other awesome things in my life (kids, wife, work) – I'll be back!